Boat Berth Directions
The Sand Dollar Liveaboard is located in the city of San Pedro at the Ports O' Call Village. The Ports O' Call Village is located on the Los Angeles' port Main Channel and the Sand Dollar has its Berth (75) overlooking the channel near the Spirit Cruises.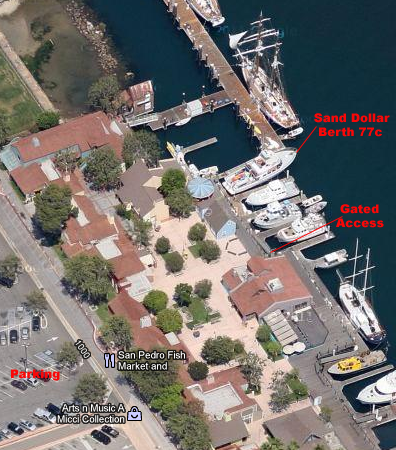 The Satellite image to the right has highlighted the key milestones to provide a visual indicator to access the Sand Dollar when you have arrived. Once you have located the boat, you can find carts on the dock to help you transfer your gear.
To reach the Sand Dollar via freeways, take the Harbor (110) Freeway South. The freeway ends at Gaffey Ave. Exit immediately before Gaffey Ave, right lane towards "Vincent Thomas Bridge - Terminal Island - Harbor Blvd". Take the exit towards Vincent Thomas Bridge but DO NOT cross the bridge! The Harbor Blvd Exit is before the bridge. Take the Harbor Blvd Exit; turn right at the stop signal on Harbor Blvd. At fourth stoplight on the left will be the entrance to Ports O' Call Village. Turn left into Ports O' Call Village and park in the area of Berth 75. From LAX Airport, take the 405 Freeway South to the Harbor Freeway (110 Freeway) South. From Orange County, take 405 North to the Harbor Freeway (110 Freeway) South. From East of Los Angeles, take 91 Freeway to the Harbor Freeway (110 Freeway ) South. From Long Beach, take the Vincent Thomas Bridge (going West on Ocean Blvd) and exit at the Harbor Blvd Exit at the end of the bridge. From Gaffey Ave in San Pedro, turn left (East) on 6th Street and go to Harbor Blvd and the entrance to the Ports O' Call Village.
You can get directions to our Berth by using the directions gadget below. Once you have arrived at the Ports O'Call Village, please proceed to park in the area (look for the yellow sign) for Berth 75.