Sand Dollar History
The Sand Dollar was built back in 1974 by the late diving pioneer, Bill Johnston, as a sister vessel to the then-popular Bottom Scratcher dive boat. Both boats where built from the keel up with the express purpose of serving the diving community. The Sand Dollar is 65 feet in length with a 21 foot beam making it one of the larger boats in its class. The twin engines that drive the boat at its 10 knots cruising speed were re-powered in 2011 (see boat specifications here). Bill ran a very successful operation based in San Diego under the name Diving Charters, Inc.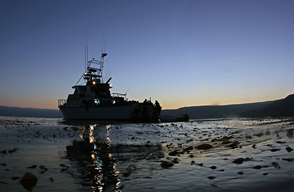 In 1992 Captain Ken Peters became Chief Operating Officer of Diving Charters, Inc. Over a two year period, the Sand Dollar and Bottom Scratcher were moved from San Diego to Long Beach for easier access to the Southern Channels Islands and Cortes Bank. Captain Ken then applied his philosophy of diving fun. Ken's experience grew from several years as a charter boat passenger, a scuba instructor and as a boat captain working for several charter operations along the Southern California coast.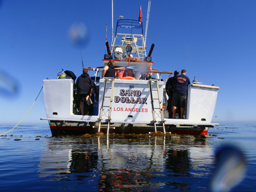 In 2006 George Staehling succeeded Ken as Chief Operating Officer and captain of the Sand Dollar. Certified as a scuba diver in 1978 and having more than 30 years of experience on Southern California waters as a deck hand and captain on the Sand Dollar, George brings a fun mix of classic and off-the-beaten-path dive sites to his passengers. George prides himself on knowing great dive sites that appeal to the wide variety of passengers that may be on board. Whether a novice, sightseer, photographer, hunter, advanced diver or deep wreck diver, all will have an enjoyable experience.